Wolf's Lair camouflage and security system
The Reich Security Service – RSD, which was commanded by SS-Brigadenführer Rattenhuber, was responsible for Hitler's personal security. RSD consisted of two groups. Each of them had ten members of the criminal service and several members of Hitler's bodyguard. RSD officers were ordered keep seperate during the service and not to talk to much – and above all – not to enter Hitler's shelter, unless it was dictated by the need to inspect the boiler facility or other workers.
If Hitler was outside his shelter, the RSD officer had to stay so far away from the Führer that the people approaching him could be stopped without disturbing Hitler. The Führer motorized side battalion, which until July 1944 grew to the size of a regiment was equipped with tanks, anti-aircraft guns and heavy weapons. Near Gołdap, about 75 km from Kętrzyn, an air-landing unit was stationed. The security of the Wolf's Lair was also watched by listening troops, whose task was to detect aircraft within a radius of up to 100 km.
The masking and camouflage of the Wolf's Lair was entrusted to the specialized gardening company "Seidenspinner" from Stuttgart (this company, like most companies that made wealth during the war – exists today in a good shape). Most of the buildings in Wolfsschanze had flat roofs with cavities from 10 to 30 cm. They were filled with soil in which bushes were planted, grass was sown and artificial trees were set up. On the edge of the roofs of many objects were metal mounts in the shape of an inverted letter "U". Masking nets were stretched between them and the trees growing nearby. From a observation plane, the whole seemed like a dense forest. The effectiveness of masking was checked by means of aerial photographs.
The walls of the buildings were covered with a mixture of seagrass and green dye, which after adding the cement became green, naturally irregular and porous "plaster" applied to brick and contrasting constructions. Today, this plaster has changed its color, but its shape and structure is still visible on many objects.
Regardless, additional and very sophisticated psychological masking was used. For example people working on the construction of the Wolf's Lair had civil passports. The word was spread around local inhabitants, that huge chemical factory is beeing built (Askania Nord Chemische Werke). Until June 21, 1941, a Russian airline, flying between Moscow and Berlin, was allowed to fly over the Wolf's Lair. In this way, it was suggested that the objects built in the forest could not have significant military significance.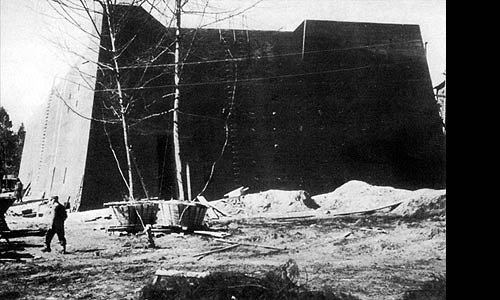 Despite the seemingly strict rules of security, several amazing cases of strangers entering the HQ happened in the Wolf's Lair. Peter Hoffmann writes, among others: "In August 1943, during a change of guard, a Polish woman unintentionally crossed the outer security zone near the watchtower East (Ost). She walked along the tracks west and at the guardhouse West she was stopped by guards" ( 13, p. 215). There is no information about what happened to her later.
All paths in Wolfsschanze was also covered with camofulage – modern in that time – plastic leaf-like nets. These nets were also to protect the HQ from seeing it during the scout flight.